The only hope in Africa's Pandora's box


- Bashir Goth

( Wednesday, July 12, 2006 )

"How can you hug, kiss and share food with dictators who created some of the worst human disasters in the world today and turn your backs on an elected leader of one of the most peaceful states in Africa."


A SOMALI anecdote says that the elders of a clan had agreed to call for a council meeting. "Call all the elders," one of them said, to which a little boy who was up in the tree under which the meeting was to be held responded: "Don't call only the elders; call the intelligent people of the clan?" Realising the sagacity of his words, the elders decided to include him in the meeting.

Over the last 15 years, Somaliland has been like that little boy, calling African elders to heed the voice of sagacity and wisdom on its issue, while African leaders have been blocking their ears and turning their backs to it. Often described as "Africa's Best Kept Secret", Somaliland is the youngest and best example of an African homegrown democracy. Its statehood, however, goes back into the dawn of Africa's postcolonial history when Somaliland emerged as an independent and sovereign state from the British rule in 1960 as part of Africa 's wind of change.

Amid the euphoria of nationalism spearheaded by Africa's liberation fathers of the day, Somaliland gave up its hard won independence to unite with Italian Somalia as the precursor of a greater Somalia, which included bringing all the Somali territories in the Horn of Africa under one national flag.

The dream of a greater Somalia has not only brought misery to the Somali people but has inflicted great suffering and instability on neighbouring countries as well. Finally, the destruction and disaster that the successive Somali governments had exported to neighbouring countries has come home to roost. With his army defeated by Ethiopia in 1977, Somalia's late military dictator Mohammed Siyad Barre turned his anger against the people of Somaliland. Under a scorched earth policy, he razed major towns to the ground; burnt villages to ashes and the whole population of three million took flight to refugee camps in neighbouring countries.

When Siyad Barre was ousted from power in 1991, Somaliland people gathered under their famous acacia trees. With all their clans and all the sectors of the community represented, they made a unanimous and spontaneous decision to reclaim their statehood that they had naively gave up in 1960. Ever since, the people of Somaliland have rebuilt their towns and villages, rehabilitated their farms, re-erected their schools and hospitals and reconciled among themselves.

Refusing to waste their precious time and energy waiting for foreign assistance and relying instead on their meagre resources and their will, Somaliland people had embarked on a unique process of self-healing, peace consolidating and democratisation. Somaliland today has an elected president, elected parliament, elected local councils, a vocal free press and civil liberties enshrined in a secular constitution, a record that many African countries can only envy.

Honourable leaders of Africa, this is why in Somaliland we find it hard to understand why you cannot see the difference between Somalia and Somaliland, between lawlessness and rule of law, between a country that cannot stand up despite all foreign help and a country that helped itself to stand up and walk without any foreign assistance. How can you deny legitimacy to an elected government and extend your hands to self-imposed warlords and extremist forces that held their people hostage more than 15 years?

How can you hug, kiss and share food with dictators who created some of the worst human disasters in the world today and turn your backs on an elected leader of one of the most peaceful states in Africa. We are perplexed, your excellencies, why you love hotel politics and big budget conferences and loathe African traditional peace deals struck under the acacia trees.

We wonder why Somaliland's homegrown democracy scares you? Is it because you think our example will set a bad precedent of self-reliance and self-reconciliation for Africa? Do you think such a precedent might deny you millions of dollars that you receive from the international community for peace making in Africa? Would you prefer to see us convert into another Darfur that could turn us into a milking cow?

Somalilanders wonder how you can meet in Banjul and not confuse Gambia with Senegal, while you confuse Somaliland with Somalia. We are confused by your double standards. You have accepted the death of Senegambia and allowed Eritrea to secede from Ethiopia, but you refuse to recognise Somaliland's colonial borders.

You say that allowing Somaliland's independence will open a Pandora's Box; but there is one thing you seem to forget, all the evil has already been let out of Africa's Pandora's box and Somaliland could be the only remaining hope to come.

Bashir Goth is a Somali poet, journalist, professional translator, freelance writer, the first Somali blogger and a news website editor. Bashir is the author of numerous cultural, religious and political articles and advocate of community-development projects, particularly in the fields of education and culture. He is also a social activist and staunch supporter of women's rights. He is currently working as an editor in a reputable corporation in the UAE.

---
Masterweb Notes:
Somaliland broke away from Somalia in 1991, but its secession is not internationally recognised. The late Abdirahman Mohamed Ali was the first president of Somaliland, and Mohamed Ibrahim Egal was his successor in 1993. Egal was re-appointed in 1998 and remained in power until his death on May 3, 2002. The vice president Dahir Riyale Kahin was sworn in as president shortly afterwards, and in 2003 Kahin became the first Somaliland president to be elected in a free and fair election.

---
Photo Above:- Six African heads of state pose for a photo during a meeting in the Nigerian capital, Abuja, Sunday, June 19, 2005 to consider a progress report on the UN Millennium Development Goals. (From Left front row) Ghana's President John Kufuor, Algeria's President Abdelaziz Bouteflika, Nigeria's President Olusegun Obasanjo, South Africa's President Thao Mbeki and Sierra Leone's Ahmad Tejan Kabbah pose for a group photo in Abuja.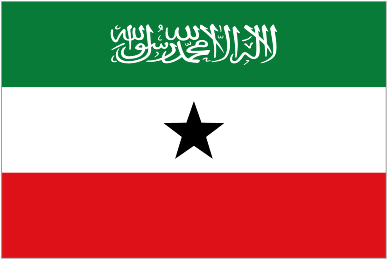 Photo Above:- Somaliland Flag



Related Links:-
Where peace & democracy make no headlines
Will the Arabs dare to listen to Somaliland?
Arab League
About Somaliland
Somaliland Official Website

Search This Site
---
Copper.Net
is Ad-Free, Fast
& Virus/Worm Free


Copper.Net
Now Available
in U.S. & Canada

---