Militia threatens Nigerian oil facilities


- Daniel Kurti

(Wednesday, September 21, 2005)

Send Comments To Masterweb

"Dokubo-Asari's apparent arrest comes at a tense time in the Niger Delta."


A militia with a history of violence in Nigeria's oil-rich south on Tuesday threatened to blow up oil installations if the government did not release its arrested leader. Dozens of soldiers and police arrested Moujahid Dokubo-Asari, the main militia leader in Nigeria's south, at his office in the oil city of Port Harcourt on Tuesday, said his lawyer Uche Okwukwu. Nigeria's police spokesman could not immediately be reached for comment.

Later Tuesday, Dokubo-Asari's deputy in the Niger Delta People's Volunteer Force, Alali Horsefall, said that if the government "doesn't release my president within 24 hours, they will see danger." He said the militia would "blow up oil installations" if Dokubo-Asari was not released by 2 p.m. and warned foreign oil workers to leave the area.

Nigeria is the world's eighth largest oil exporter, and the fifth main supplier to the United States. Last year, threats by Dokubo-Asari to unleash a "full-scale war" and target international oil firms helped send world oil prices to then-record levels. Fighting involving Dokubo-Asari's group, other armed militias and Nigerian security forces killed hundreds last year, before he agreed to disarm under a September 2004 peace deal. His group says the people of the Niger delta, including his own Ijaw ethnic group, should break away from Nigeria and take control the billions of dollars of oil flowing from their land. Dokubo-Asari's apparent arrest comes at a tense time in the Niger Delta.

Another prominent militant group has issued veiled threats against Britons after the governor of the Niger delta state of Bayelsa was arrested for questioning in Britain over suspicions of money laundering.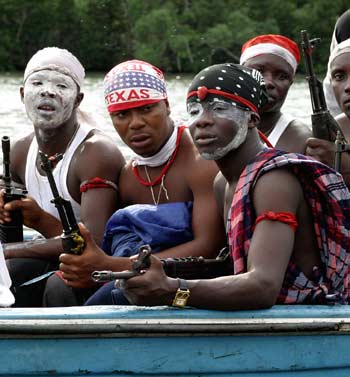 Niger Delta rebels in a boat



Related Links:-
Nigerian group warns Britain on arrest
Nation's anger at Nigerian looters
Renewed violence rocks Nigeria's Niger Delta
Dokubo explodes, preaches rebellion against Nigeria
Nigerian rebels to widen conflict
Nigeria rebels to declare war Oct. 1st
Tribute to Isaac Adaka Boro
Who Killed Adaka Boro
Open Letter to the World on Ijaw Self-Determination
Boro Day Keynote Address
$170b owned by Nigerians in foreign banks worries EFCC
Dictators: From coup to stuffed ballot box
African Dictators: Pillage & Plunder